Don't see what you need? We can help.
Ask our experts about a custom magnet for your prototype, invention or specialty project.
..to your best source for incredibly strong neodymium rare earth magnets. If you are new to our site, we're glad you found us. We hope we can fill all of your neodymium rare earth magnet needs.
Pot Magnets
BUILD YOUR CUSTOM MAGNETSSee what tcm magnetics can do for you2>
Request a quote today
The magnet sits inside a steel case which provides extra strong magnetism on one face only, provides a hole for fixing and also protects the magnet from damage.
Types Of Pot Magnets
External Threaded Stud
Internal Threaded Mounting
Countersunk Mounting
Through Hole Mounting
Internal Threaded Stud
Threaded Through Hole
Ferrite Limpet Pots
The difference between different permanent magnetic material
Neodymium magnet, SmCo, ceramic magnet and AlNiCo can be used to make pot magnets
Neodymium pot magnets have strong magnetic force and high performance.
The advantage of ferrite pot magnets is economical price and moderate performance.
AlNiCo pot magnets works well in extreme high temperature up to 550ºC. The maximum working temperature of samarium cobalt magnet is 350ºC.
Workable Temperature of Pot Magnets
| | |
| --- | --- |
| Types of pot magnets | Allowed Temperature |
| Alnico pot magnets | 3.6 ~ 3.8 g/cm3 |
| Ceramic pot magnets | 92 ~ 97 Hs (A) |
| Neoflux pot magnets | 58 ~ 78 kg/cm2 |
| Samarium cobalt pot magnets | 125 ~ 165 % |
| Pot electromagnets pot magnets | 180℃ |

A Type Neodymium Pot Magnets

| | | | | | | |
| --- | --- | --- | --- | --- | --- | --- |
| Model No | D(mm) | D1 (mm) | D2 (mm) | H (mm) | Attractive (kg) | Weight(g) |
| PM-A16 | 16 | 3.5 | 6.5 | 5 | 5 | 7 |
| PM-A20 | 20 | 4.5 | 8.6 | 7 | 6 | 13 |
| PM-A25 | 25 | 5.5 | 10.4 | 8 | 14 | 23 |
| PM-A32 | 32 | 5.5 | 10.4 | 8 | 25 | 39 |
| PM-A36 | 36 | 6.5 | 12 | 8 | 29 | 52 |
| PM-A42 | 42 | 6.5 | 12 | 9 | 37 | 76 |
| PM-A48 | 48 | 8.5 | 16 | 11.5 | 68 | 120 |
| PM-A60 | 60 | 8.5 | 16 | 15 | 112 | 252 |
| PM-A75 | 75 | 10.5 | 19 | 18 | 162 | 488 |
B Type Neodymium Pot Magnets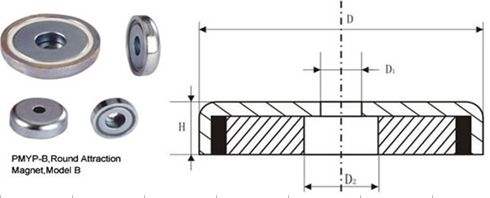 | | | | | | | |
| --- | --- | --- | --- | --- | --- | --- |
| Model No. | D(mm) | D1(mm) | D2(mm) | H(mm) | Attractive (kg) | Weight(g) |
| PM-B16 | 16 | 3.5 | 6.5 | 5 | 4 | 6 |
| PM-B20 | 20 | 4.5 | 8 | 7 | 6 | 12 |
| PM-B25 | 25 | 5.5 | 9 | 8 | 14 | 23 |
| PM-B32 | 32 | 5.5 | 9 | 8 | 23 | 36 |
| PM-B36 | 36 | 6.5 | 11 | 9 | 29 | 50 |
| PM-B42 | 42 | 6.5 | 11 | 9 | 32 | 73 |
| PM-B48 | 48 | 8.5 | 15 | 11.5 | 63 | 114 |
| PM-B60 | 60 | 8.5 | 15 | 15 | 95 | 240 |
| PM-B75 | 75 | 10.5 | 18 | 18 | 155 | 471 |
C Type Neodymium Pot Magnets

| | | | | | |
| --- | --- | --- | --- | --- | --- |
| Model No. | D(mm) | M (mm) | H (mm) | h (mm) | Attractive (kg) |
| PM-C16 | 16 | 4 | 13 | 5 | 5.5 |
| PM-C20 | 20 | 4 | 15 | 7 | 9 |
| PM-C25 | 25 | 5 | 17 | 8 | 22 |
| PM-C32 | 32 | 6 | 18 | 8 | 34 |
| PM-C36 | 36 | 8 | 18 | 8 | 41 |
| PM-C42 | 42 | 8 | 20 | 9 | 68 |
| PM-C48 | 48 | 8 | 24 | 11.5 | 81 |
| PM-C60 | 60 | 10 | 30 | 15 | 113 |
| PM-C75 | 75 | 10 | 34 | 18 | 164 |
D Type Neodymium Pot Magnets

| | | | | | | | |
| --- | --- | --- | --- | --- | --- | --- | --- |
| Model No. | D(mm) | D1? | M | H(mm) | h | Attractive (kg) | Weight(g) |
| PM-D16 | 16 | 6 | 4 | 13 | 5 | 5.5 | 8 |
| PM-D20 | 20 | 8 | 4 | 15 | 7 | 9 | 17 |
| PM-D25 | 25 | 10 | 5 | 17 | 8 | 22 | 32 |
| PM-D32 | 32 | 10 | 6 | 18 | 8 | 34 | 47 |
| PM-D36 | 36 | 10 | 6 | 18 | 8 | 41 | 59 |
| PM-D42 | 42 | 12 | 6 | 20 | 9 | 68 | 87 |
| PM-D48 | 48 | 12 | 8 | 24 | 11.5 | 81 | 132 |
| PM-D60 | 60 | 14 | 8 | 30 | 15 | 113 | 270 |
| PM-D75 | 75 | 16 | 10 | 34 | 18 | 164 | 552 |
E Type Neodymium Pot Magnets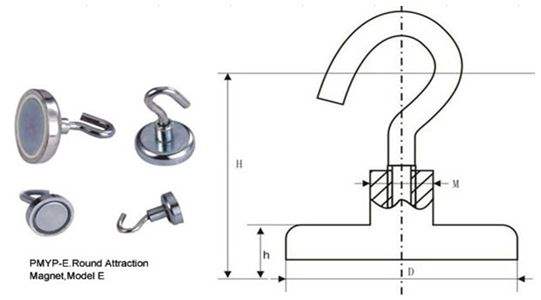 | | | | | | | |
| --- | --- | --- | --- | --- | --- | --- |
| Model No. | D(mm) | M | H(mm) | h | Attractive (kg) | Weight(g) |
| PM-E16 | 16 | 4 | 14 | 5 | 5.5 | 11 |
| PM-E20 | 20 | 4 | 14 | 7 | 9 | 21 |
| PM-E25 | 25 | 5 | 15 | 8 | 22 | 37 |
| PM-E32 | 32 | 6 | 16 | 8 | 34 | 56 |
| PM-E36 | 36 | 6 | 16 | 8 | 41 | 68 |
| PM-E42 | 42 | 6 | 16 | 9 | 68 | 97 |
| PM-E48 | 48 | 8 | 23 | 11.5 | 81 | 154 |
| PM-E60 | 60 | 8 | 23 | 15 | 113 | 282 |
| PM-E75 | 75 | 10 | 25 | 18 | 164 | 560 |