CONTACT US
For product information and pricing, chat with sales manager:
Neodymium Magnets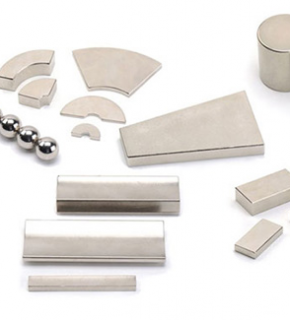 Neodymium magnet is the most powerful among the permanent magnet. It have a force of about eight times than anisotropic ferrite magnet.
For iron and relatively abundant neodymium, main raw material can be produced at low cost compared to samarium-cobalt magnet or the like. In addition, the specific gravity of 10% samarium-cobalt magnet , I will adapt to the needs smaller and lighter in weight. For high mechanical strength further, chipping or cracking is small, the handling of the machine or after magnetization and easy to work with.
On the other hand, you must influence of magnetic force , to be careful in handling. There is a drawback prone thermal demagnetization relatively large temperature characteristics.
In addition, it is easy for rust ,corrosion resistance is poor , surface treatment is required for applications to be used in an environment of high temperature and high humidity. For nickel plating process is in general, it is the appearance of the metallic luster silver in many of the neodymium magnet.
It is often used in electronic equipment that has been miniaturized by utilizing the high magnetic energy product, it is also used on the product CD, DVD player and hard disk, such as a mobile phone. For example, it is used in the actuator for reading and writing which is called a head in a hard disk. In addition to become a high-quality sound when you built it into the headphone, it has a built-in most of the recent headphones

Features
Has high magnetic flux density and extremely strong magnetic field.
Mechanically vulnerable and its magnetism varies with temperature change.
Can be used in temperature of up to 80 degrees Celsius, and applications to withstand higher temperatures are also available.
Prone to oxidation, they are usually treated with coating of nickel of epoxy resin for protection.
Main application
Parts of Information and Communication (Speaker, Sensor), such as mobile terminal.
Various parts of electrical and electronic products, micro speaker, earphone.
Automobile parts, hybrid cars, such as electric vehicles.
Various motor parts such as HDD. DVD motor.
Machine parts industry Commandment, precision machine tools, multi-media equipment.
Clock, accessories, various robots, magnetic sensor.
Various health supplies, and medical equipment.
Each field, which aims compact, high performance.
The shape of the main NdFeB magnet
| | | | |
| --- | --- | --- | --- |
| TYPE | | | |
| Dimension criteria | Diameter (D) × thickness (T) | Long side (L) × short side (W) × thickness (T) | Outer diameter (D1) × inner diameter (D2) × thickness (T) |
We can handle neodymium Magnet of a special shape. (Made-to-order)
Magnetization
Neodymium magnets can be magnetized in any direction as long as it is aligned properly. In some instances multiple pole magnetizations is not possible; when it is possible, special fixtures are required. You can find all information of our Methods of Magnetization in our resource center.
Surface treatmen
For iron component (about 66%), it is easy disadvantages oxidizing power is strong rust there often (neodymium magnet) Nd-Fe-B sintered magnet. Surface treatment that a mandatory essential to prevent it, there is a method using various materials in it. To determine the material of plating depending on the environment used is neodymium.
Available Coatings:
Surface
Coating
Thickness
(um)
Color
SST
(hour)
PCT
(hour)
Nickel
Ni+Ni
10-20um
Bright Silver
>24-72
>24-72
Ni+Cu+Ni
Black Nickel
Ni+Cu+Ni
10-20um
Bright Black
>48-96
>48
Cr3+Zinc
Zn
5-8um
Bright Blue
>16-48
C-Zn
Shinny Color
>36-72
Tin
Ni+Cu+Ni+Sn
10-25um
Silver
>36-72
>48
Gold
Ni+Cu+Ni+Au
10-15um
Gold
>12
>48
Ag
Ni+Cu+Ni+Ag
10-15um
Silver
>12
>48
Epoxy
Epoxy
10-20um
Black, Grey
>48
Ni+Cu+Epoxy
15-30um
>72-108
Zn+Epoxy
15-25um
>72-108
Passivation
1-3um
Dark Gery
Temporary Protection
Phosphated
1-3um
Dark Gery
Temporary Protection
The various elements that compose a neodymium magnet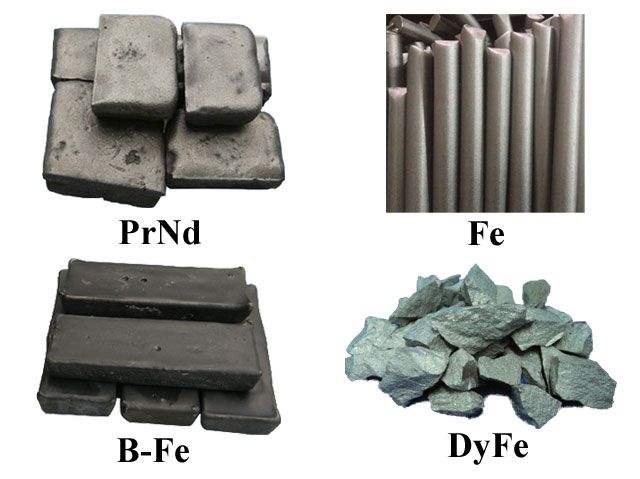 The various elements that compose a neodymium magnet -neodymium/praseodymium (PrNd), iron (Fe), boron/iron (B-Fe), and dysprosium/iron (DyFe).
Custom magnets
NdFeB magnets for motor, generator,driver in various specification

Tile-shaped and special-shaped ndfeb magnet

NdFeB Blocks in various specification

NdFeB products painted with epoxy resin

NdFeB Circles in various specification

NdFeb Cylinders in various specification

Special Shape of NdFeB Magnet

Rubber Coated NdFeB Magnet

Special Shape of NdFeB Magnet