Don't see what you need? We can help.
Ask our experts about a custom magnet for your prototype, invention or specialty project.
..to your best source for incredibly strong neodymium rare earth magnets. If you are new to our site, we're glad you found us. We hope we can fill all of your neodymium rare earth magnet needs.
Neodymium Magnets
Neodymium Magnet manufacturer & supplier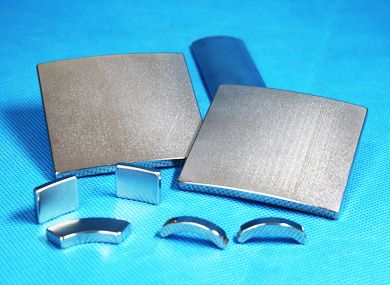 We are professional Neodymium Magnet manufacturer and supplier in China. We can produce Neodymium Magnet (NdFeB magnet) according to your requirements. More types of Neodymium Magnet (NdFeB magnet), Sintered Neodymium Magnet (NdFeB magnet), please contact us right now.
Sintered Neodymium Magnets production process >>
General Introduction
Neodymium magnet is the most powerful among the permanent magnet. It have a force of about eight times than anisotropic ferrite magnet.
For iron and relatively abundant neodymium, main raw material can be produced at low cost compared to samarium-cobalt magnet or the like. In addition, the specific gravity of 10% samarium-cobalt magnet , I will adapt to the needs smaller and lighter in weight. For high mechanical strength further, chipping or cracking is small, the handling of the machine or after magnetization and easy to work with.
On the other hand, you must influence of magnetic force , to be careful in handling. There is a drawback prone thermal demagnetization relatively large temperature characteristics.
In addition, it is easy for rust ,corrosion resistance is poor , surface treatment is required for applications to be used in an environment of high temperature and high humidity. For nickel plating process is in general, it is the appearance of the metallic luster silver in many of the neodymium magnet.
BUILD YOUR CUSTOM MAGNETSSee what tcm magnetics can do for you2>
Request a quote today
Features Of Neodymium Magnets
Neodymium magnets are very strong permanent magnets. In fact they are the strongest of all rare earth magnets and also the strongest permanent magnets that exist today.
Neodymium magnets have a very high resistance to demagnetization. This makes them very useful in many different kinds of industrial applications.
Even small sized Neodymium magnets have a very high energy
They are good in ambient temperature.
Application of Neodymium Magnets
Parts of Information and Communication (Speaker, Sensor), such as mobile terminal.
Various parts of electrical and electronic products, micro speaker, earphone.
Automobile parts, hybrid cars, such as electric vehicles.
Various motor parts such as HDD. DVD motor.
Machine parts industry Commandment, precision machine tools, multi-media equipment.
Clock, accessories, various robots, magnetic sensor.
Various health supplies, and medical equipment.
Each field, which aims compact, high performance.
Size Range Of Neodymium Magnets
Shaps
Outer Diameter/Length
Inner diameter/Width
Thickness
Maximum
220.00mm
50.00mm
Minimum
0.30mm
0.50mm
Maximum
100.00mm
150.00mm
50.00mm
Minimum
0.5mm
0.50mm
0.50mm
Maximum
220.00mm
80.00mm
50.00mm
Minimum
1.00mm
0.60mm
0.50mm
Segment, Arc and other irregular shapes can be made according to customer's samples or drawing.
Magnetization
Neodymium magnets can be magnetized in any direction as long as it is aligned properly. In some instances multiple pole magnetizations is not possible; when it is possible, special fixtures are required.
| | | | |
| --- | --- | --- | --- |
| Axial | Diametrical | Axial | Diametrical |
| Thickness | Length | Axial | Diametrical |
| Diametrical | Diametrical | Width | Thickness |
Surface treatmen
For iron component (about 66%), it is easy disadvantages oxidizing power is strong rust there often (neodymium magnet) Nd-Fe-B sintered magnet. Surface treatment that a mandatory essential to prevent it, there is a method using various materials in it. To determine the material of plating depending on the environment used is neodymium.
| | | | | | | |
| --- | --- | --- | --- | --- | --- | --- |
| Pctures | | | | | | |
| Coating | Zinc | Nickel | Gold | Silver | Epoxy | Parylene |
| Thickness | 7-15um | 15-21um | 16-23um | 16-23um | 20-38um | 10-15um |
| Salt spray test | 12 hours | 24 hours | 36 hours | 24 hours | 48 hours | 48 hours |
The various elements that compose a neodymium magnet

The various elements that compose a neodymium magnet -neodymium/praseodymium (PrNd), iron (Fe), boron/iron (B-Fe), and dysprosium/iron (DyFe).
Custom magnets
| | | |
| --- | --- | --- |
| Neodymium arc magnets for motor, generator,driver in various specification | Tile-shaped and special-shaped neodymium magnet | Neodymium Blocks shape in various specification |
| Neodymium products painted with epoxy resin | Neodymium Circles in various specification | Neodymium disc shape in various specification |
| Special Shape of Neodymium Magnet | Rubber Coated Neodymium Magnet | Special Shape of Neodymium Magnet |