Don't see what you need? We can help.
Ask our experts about a custom magnet for your prototype, invention or specialty project.
..to your best source for incredibly strong neodymium rare earth magnets. If you are new to our site, we're glad you found us. We hope we can fill all of your neodymium rare earth magnet needs.
Magnetic Push Pins, Magnetic Pins for Whiteboards
BUILD YOUR CUSTOM MAGNETSSee what tcm magnetics can do for you2>
Request a quote today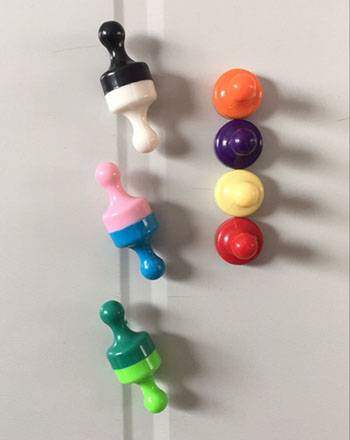 Magnetic pushpin is also called as magnetic thumbtack, it is constructed by a strong Neodymium magnet in a ABS plastic pushpin shape. Though it is in a small size, actually it is with unbelievable strong holding power.
We have desiged various series and different sizes, also in beautiful colors. We can supply the magnetic pushpin in colourful environmental friendly ABS or PC plastic shells, the colour of plastic shell can be specificed by you. The magnet included is Neodymium magnet, the strongest magnet in the world nowadays.
With these strong magnetic pushpin, you can easily attach photos, notes, flow charts, road maps and restaurant orders onto a refrigerator, file cabinets, magnetic boards, drawers or other metal surfaces. Magnetic pushpin are great magnets for office, home and whiteboards!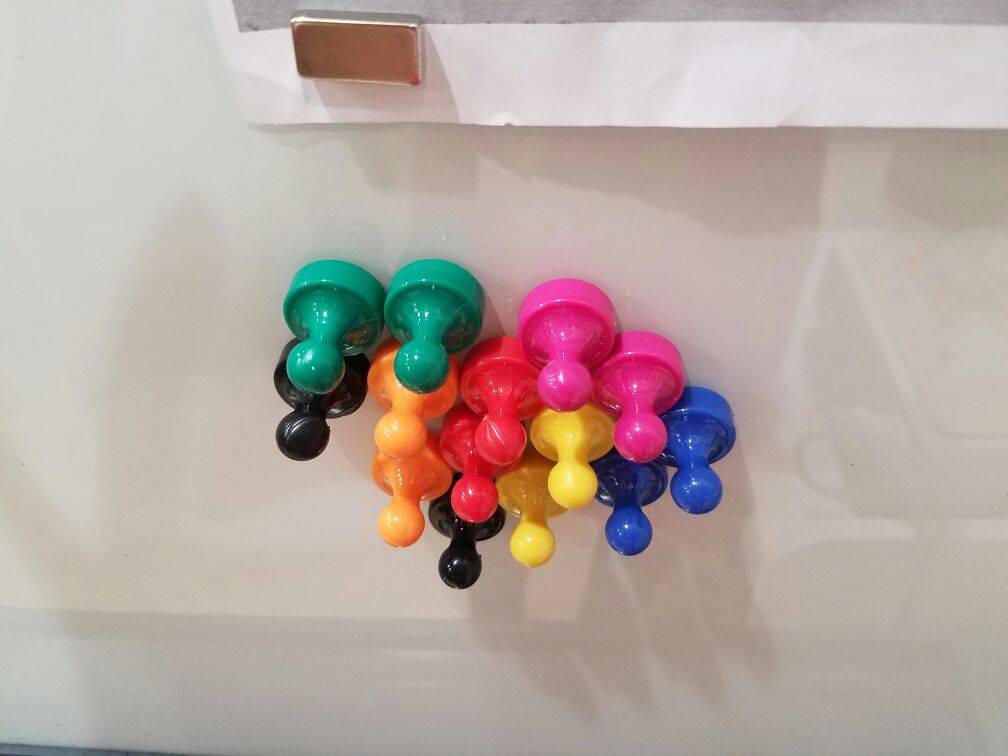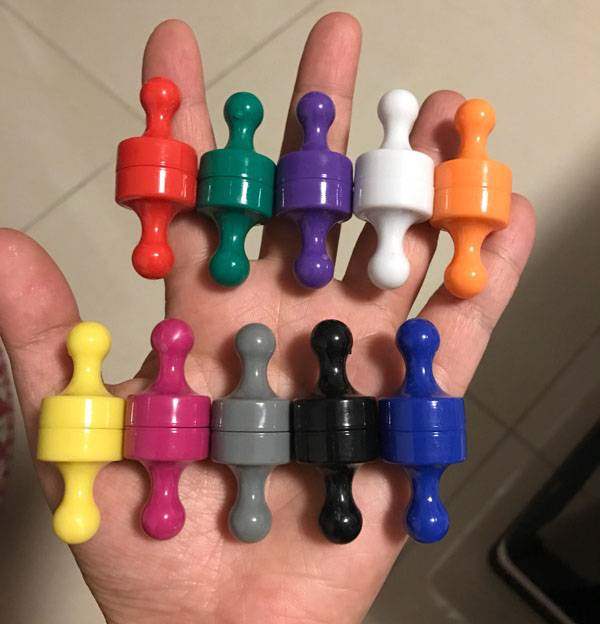 Magnetic Push Pins specifications

| | | | | | | | |
| --- | --- | --- | --- | --- | --- | --- | --- |
| Model No | D(mm) | H (mm) | Material | Net weight (g) | Full force (kg) | Work Temp (ºC) | Hold A4 on white board |
| PM-A11 | 11 | 17 | NdFeB+ABS plastic | 1.5 | 0.74 | Max. 80 ºC | Fixed about 8pcs A4 paper |
| PM-A12 | 12 | 19 | NdFeB+ABS plastic | 3.5 | 2.2 | Max. 80 ºC | Fixed about 35pcs A4 paper |
| PM-A19 | 19 | 25 | NdFeB+ABS plastic | 8.0 | 3.6 | Max. 80 ºC | Fixed about 45pcs A4 paper |
| PM-A29 | 29 | 38 | NdFeB+ABS plastic | 25.0 | 7.0 | Max. 80 ºC | Fixed about 105pcs A4 paper |
Product photo
Yellow Magnetic Push Pins

Red Magnetic Push Pins

Purple Magnetic Push Pins

Blue Magnetic Push Pins

Green Magnetic Push Pins

White Magnetic Push Pins

Orange Magnetic Push Pins