Don't see what you need? We can help.
Ask our experts about a custom magnet for your prototype, invention or specialty project.
..to your best source for incredibly strong neodymium rare earth magnets. If you are new to our site, we're glad you found us. We hope we can fill all of your neodymium rare earth magnet needs.
Self Adhesive Magnets
BUILD YOUR CUSTOM MAGNETSSee what tcm magnetics can do for you2>
Request a quote today
Neodymium magnets with strong 3m self adhesive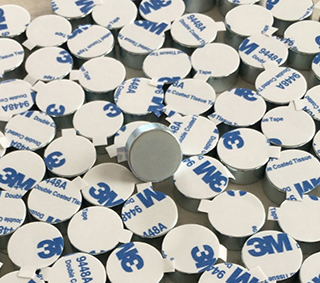 We are professional magnet manufacturer and factory in China. We can produce self adhesive magnets according to your requirements. More types of self adhesive magnets, please contact us right now!
General Introduction
Thin neodymium magnets with premium adhesive are powerful, compact magnetic discs and rectangular with an easy pull-tab adhesive liner. Designed to save time and effort, this is definitely a less labor-intensive option and a benefit for those with poor dexterity.Self-adhesive magnets are available with either their north pole or south pole on the non-self-adhesive face. Our adhesive magnets products are all supplied with premium adhesive such as 3M 468, 3M9448 or Tesa 4965, so they won't let you down. Additional sizes, plating options and grade choices are also available upon request.
Available for use on: cabinets, lockers, doors, cases, chests, displays, closures and purses.

Popular Self Adhesive Magnets Products
| | |
| --- | --- |
| Adhesive 12mm dia x 2mm thick N42 Neodymium Magnet - 1.6kg Pull | Adhesive 15mm dia x 1mm N42 Black Epoxy Magnets - 1.1kg Pull |
| Adhesive 20 x 10 x 1.5mm thick N42 Neodymium Magnet | Adhesive 15 x 15 x 1mm thick N42 Neodymium Magnet - 1.2kg Pull |