Don't see what you need? We can help.
Ask our experts about a custom magnet for your prototype, invention or specialty project.
..to your best source for incredibly strong neodymium rare earth magnets. If you are new to our site, we're glad you found us. We hope we can fill all of your neodymium rare earth magnet needs.
Rare Earth Neodymium Magnets
11/13/2016


Rare Earth Neodymium Magnets specifications:
Size: Custom-made according to your requirements.
Grade:All kind of grade with N35 - N52, 30M - 50M, 30H - 48H, 30SH - 45SH, 28UH - 40UH, 30EH - 35EH, 30AH - 33AH.
Material:Rare earth Permanent Neodymium/NdFeB Magnet
Performance: High flux, high coercive force, low temperature coefficient and low loss of irreversible.
Coating:Ni, Zn, NiCuNi, Epoxy,Nicu+Epoxy,NiCu+Sn,Passivation,Silver, Gold, Teflon,Everlube etc.
Application:Motor assemblies, Automobile,Wind Generator,MRI,Speaker,IT industry.Sensor,Communication equipments , Scanner, Camera, Home appliance,Magnetic separators, linear actuators, microphone assemblies, servo motors, DC motors (automotive starters), computer rigid disc drives, printers and speakers and so on.
Certificates: SGS, ISO9001:2000,ROHS.
Dimension Range of Rare Earth Neodymium Magnets
Length (OD) mm
Width (ID) mm
Thickness (mm)
Min.
Max.
Min.
Max.
Min.
Max.
Block
1
150
1
100
0.5
150
Ring
1
180
1
140
0.6
50
Disc/Bar
1
150
0.6
50
Length
Chord Length
Min.
Max
Min.
Max.
Segment
3
50
5
150
Production procedure of Rare Earth Neodymium Magnets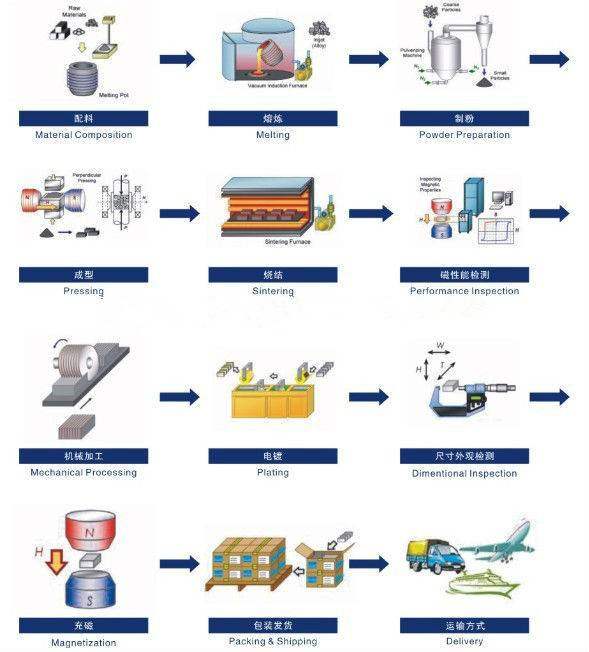 Magnetization Direction of Rare Earth Neodymium Magnets