CONTACT US
For product information and pricing, chat with sales manager:
..to your best source for incredibly strong neodymium rare earth magnets. If you are new to our site, we're glad you found us. We hope we can fill all of your neodymium rare earth magnet needs.
All About Applications For Rare Earth Magnets
09/05/2016


Rare earth Neodymium magnets (NdFeB) are actually produced for industrial use since 1984.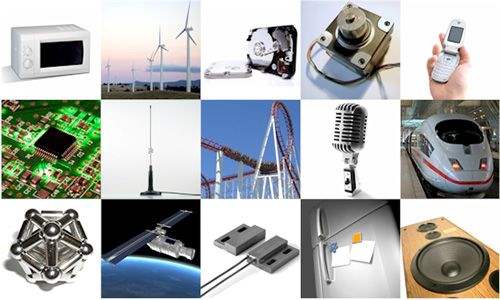 Neo magnets have high magnetic energy and they are found in programs which require effective magnets, additionally to programs where weight and dimensions reduction have interest or need to be considered.
These qualities make NdFeb magnets appropriate inside the generally used bigger and less effective ceramic magnets.
NdFeb magnets can be utilized numerous programs, for example:
Electronics - Sensors, hard drives, sophisticated switches, electro-mechanical items etc.
Auto Industry - Electricity motors (hybrid and electric), small high-performance motors, power steering.
Medical - MRI equipment and checking products.
Clean Tech Energy - Discharge enhancement, wind machines.
Magnetic Separators - Useful for recycling, food and liquids QC, waste removal.
Magnetic Bearing - Useful for highly sensitive and delicate strategies to numerous heavy industries.
shallow pot magnets - https://www.r4ymagnetics.com/Pot-Magnets.htm