Don't see what you need? We can help.
Ask our experts about a custom magnet for your prototype, invention or specialty project.
Flat mount with a tapered center hole for recessing the head of a srew.
A countersink or a counterbored hole is provided on the magnet for securing the magnet with a screw on a prescribed location. The inner bore is a straight hole is not threaded. The standard side of the screw installation surface is the N pole. Please select the S pole depending on the usage.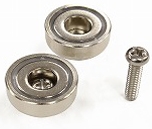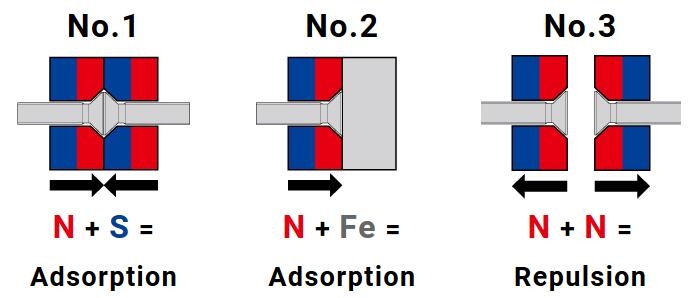 Shapes of screws may vary in size depending on the manufacturer or standard. The shape of the hole has been machined for ISO / JIS standard screws.

| Screw head | ISO / JIS standard | D | H | ID |
| --- | --- | --- | --- | --- |
| Countersunk screw | M1.4 | 2 | 0.5 | 1.35 |
| Countersunk screw | M2 | 4 | 1.2 | 1.9 |
| Countersunk screw | M2.5 | 5 | 1.45 | 2.4 |
| Countersunk screw | M3 | 6 | 1.75 | 2.9 |
| Countersunk screw | M3.5 | 7 | 2 | 3.4 |
| Countersunk screw | M4 | 8 | 2.3 | 3.9 |
| Countersunk screw | M5 | 10 | 2.8 | 4.8 |
| Countersunk screw | M6 | 12 | 3.4 | 5.9 |
| Countersunk screw | M8 | 16 | 4.4 | 7.8 |
| Countersunk screw | M10 | 20 | 5.7 | 9.8 |
Code
Product name
D
H
ID
D1
N.W.
Screw standard M
Adsorptive power
kgf
A16
pot magnet dia. 16, x height 5.2 mm, inner hole for countersunk-head bolt dia. 3.5mm
16
5.2
3.5
6.5
7
M3
5 kgf
A20
pot magnet dia. 20, x height 7.2 mm, inner hole for countersunk-head bolt dia. 4.5mm
20
7.2
4.5
8.6
15
M4
6 kgf
A25
pot magnet dia. 25, x height 7.7 mm, inner hole for countersunk-head bolt dia. 5.5mm
25
7.7
5.5
10.4
24
M5
14 kgf
A32
pot magnet dia. 32, x height 7.8 mm, inner hole for countersunk-head bolt dia. 5.5mm
32
7.8
5.5
10.4
39
M5
25 kgf
A36
pot magnet dia. 36, x height 7.6 mm, inner hole for countersunk-head bolt dia. 6.5mm
36
7.6
6.5
12
50
M6
29 kgf
A42
pot magnet dia. 42, x height 8.8 mm, inner hole for countersunk-head bolt dia. 6.5mm
42
8.8
6.5
12
77
M6
37 kgf
A48
pot magnet dia. 48, x height 10.8 mm, inner hole for countersunk-head bolt dia. 8.5mm
48
10.8
8.5
16
120
M8
37 kgf
A60
pot magnet dia. 60, x height 15 mm, inner hole for countersunk-head bolt dia. 8.5mm
60
15
8.5
16
243
M8
112 kgf
A75
pot magnet dia. 75, x height 17.8 mm, inner hole for countersunk-head bolt dia. 10.5mm
75
17.8
10.5
19
480
M10
162 kgf
Code
Product name
D
H
ID
D1
N.W.
Screw standard M
Adsorptive power
kgf